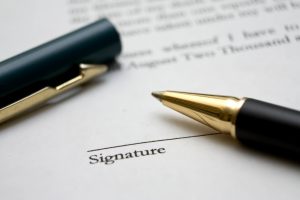 Couples in Jacksonville and the Duval County area may need asset protection options in the event of divorce to eliminate costly litigation. A prenuptial or postnuptial agreement or even irrevocable trusts are great options. However, it is important that an experienced Family Law attorney constructs and reviews these documents.
A prenuptial agreement is an agreement between prospective spouses made in contemplation of marriage and to be effective upon marriage. See Florida Statutes section 61.079(2)(a). A postnuptial agreement is an agreement between spouses who are already married that is effective immediately upon signing. Both agreements are signed with the understanding that they will determine asset and property distribution in the event of divorce, among other things.
Parties to a premarital agreement may contract with respect to the rights and obligations of each of the parties in any property of either or both of them whenever and wherever acquired or located; the right to buy, sell, use, transfer, exchange, abandon, lease, consume, expend, assign, create a security interest in, mortgage, encumber, dispose of, or otherwise manage and control property; the disposition of property upon separation, marital dissolution, death, or the occurrence of nonoccurrence of any other event; the establishment, modification, waiver or elimination of spousal support; the making of a will, trust, or other arrangement to carry out the provisions of the agreement; the ownership rights in and disposition of the death benefit from a life insurance policy; the choice of law governing the construction of the agreement; and any other matter, including their personal rights and obligations, not in violation of either the public policy of Florida or a law imposing a criminal penalty. See Florida Statutes section 61.079(4)(a)(1-8). In contemplation of a premarital agreement being signed, there must be a fair and reasonable disclosure of the property or financial obligations of the other party.