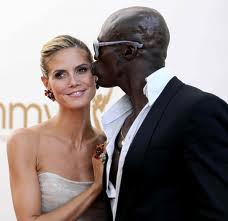 So, I just wrote a blog yesterday regarding how Heidi Klum officially filed for divorce from her husband Seal. I mentioned that Heidi requested primary physical custody of the couple's four children and that the parties had a prenuptial agreement in place prior to walking down the aisle. I also mentioned, only time will tell if their divorce will be amicable or nasty.
Well, it looks as though it may be getting nasty. Seal has filed a response to Heidi's petition and there are some discrepancies between the two. For example, Heidi refers to a prenuptial agreement in her petition alleging there is no joint or community property, whereas; Seal makes no mention of such. This can be of huge consequence, as it is estimated Heidi has a net worth around 70 million, whereas; Seal's net worth is estimated around 15 million. Seal has asked for joint physical custody of their children while Heidi wants primary physical custody.
This is just the beginning, we'll have to wait and see how this highly publicized divorce plays out.
Going through a divorce in Orange Park? Contact an Orange Park Divorce Attorney today and schedule a free consultation.