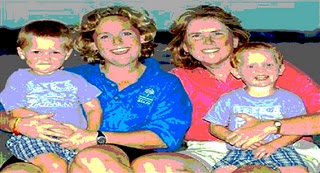 A Second Parent Adoption allows the biological parent's same-sex partner to adopt a child without terminating the rights of the biological parent. This type of adoption is comparable to a "stepparent adoption", except both parties are the same gender.
An adopted child is entitled to financial benefits, inheritance rights and Social Security benefits from both parents. However, children being raised by same-sex parents are at a disadvantage if there is no legal relationship between the children and both parents. For example, the child's biological parent may not have health insurance to cover the child, but the non-legal parent does. Further, employees that offer domestic partnership benefits may not cover the non-legal child of the employee.
If the non-legal parent dies, the child cannot receive surviving dependent benefits from the Social Security Administration. This can be financially detrimental to the child[ren], especially if the deceased parent was the family's primary wage earner.
Further, without a legal relationship to the parent, children have no standing to bring a wrongful death action or to receive tort benefits for the loss of that (non-legal) parent.
If you would like to learn more about a 2nd Parent Adoption, contact a Jacksonville Adoption Attorney focusing on LGBT issues and 2nd parent adoptions.