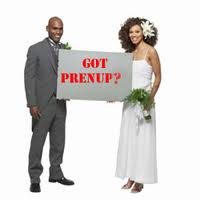 Premarital Agreements, also known as prenups, have been around for over 200 years and with divorce rates the way they are I can't imagine them going anywhere anytime soon.
In Jacksonville, Florida, premarital agreements are governed by Florida Statute 61.079. This statute is often referred to as the "Uniform Premarital Agreement Act". Under this act a premarital agreement is defined as, "an agreement between prospective spouses made in contemplation of marriage and to be effective upon marriage".
As a Jacksonville Family Law Lawyer I assist soon to be married clients with the process of developing a prenup to their specifications. Should you and your soon to be spouse be considering entering into a premarital agreement contact a Jacksonville Family Law Lawyer for further advice and information.
Our comprehensive Prenuptial Agreements are priced on a flat fee of $3500 which include 2 hours of customization.  An asset protection trust might offer benefits over the prenuptial agreement including not having to disclose the agreement.