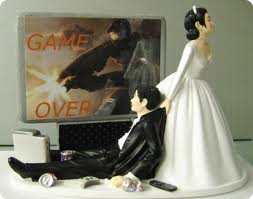 A recent study suggests that video games are increasingly being blamed for many divorce cases. Apparently, 15% of wives who cite unreasonable behavior for ending marriage have cited gaming as the cause.
This number is much higher than five years ago. One of the games cited by Divorce Online (the website responsible for the study) is the ever-popular World of Warcraft. One woman claimed her husband played over eight hours every day. It should be noted that not just men are gaming addicts; another study suggests that women represent 40% of all gamers.
Similarly, a smaller study by a University in Egypt suggested that husbands who love watching football (AKA soccer) showed higher divorce rates than those who did not. This suggests that sports fans in general may be at higher risk for divorce; however, the study was limited in size. Further, the study focused on extreme fans who do not appear to exhibit behavior similar to their American counterparts.