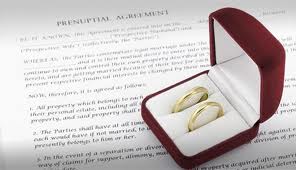 With divorce rates the way they are it is not surprising more couples are entering into Prenuptial Agreements before they walk down the aisle.
However, it is not surprising that Prenuptial Agreements, also known as "prenups," are often looked at in a negative light. Indeed, Prenuptial Agreements basically operate under the assumption that the parties will eventually split.
Nevertheless, Prenuptial Agreements can be enormously beneficial. The reality is that a substantial number of marriages end in divorce and a properly written Prenuptial Agreement can help you avoid a contentious divorce, high lawyer fees, and long court proceedings.
In Jacksonville, Florida, Premarital Agreements are governed by Florida Statute 61.079. This statute is often referred to as the "Uniform Premarital Agreement Act". Under this act a Premarital Agreement is defined as, "an agreement between prospective spouses made in contemplation of marriage and to be effective upon marriage".
Should you be considering entering into a Premarital Agreement prior to tying the knot contact a Jacksonville Family Law Lawyer today to schedule a free consultation. Depending on your case the drafting of a basic Prenuptial Agreement can cost as little as $500.