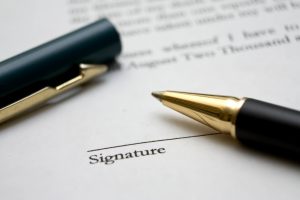 Couples in Jacksonville and the Duval County area may need asset protection options in the event of divorce to eliminate costly litigation. A prenuptial or postnuptial agreement or even irrevocable trusts are great options. However, it is important that an experienced Family Law attorney constructs and reviews these documents.
A prenuptial agreement is an agreement between prospective spouses made in contemplation of marriage and to be effective upon marriage. See Florida Statutes section 61.079(2)(a). A postnuptial agreement is an agreement between spouses who are already married that is effective immediately upon signing. Both agreements are signed with the understanding that they will determine asset and property distribution in the event of divorce, among other things.
Parties to a premarital agreement may contract with respect to the rights and obligations of each of the parties in any property of either or both of them whenever and wherever acquired or located; the right to buy, sell, use, transfer, exchange, abandon, lease, consume, expend, assign, create a security interest in, mortgage, encumber, dispose of, or otherwise manage and control property; the disposition of property upon separation, marital dissolution, death, or the occurrence of nonoccurrence of any other event; the establishment, modification, waiver or elimination of spousal support; the making of a will, trust, or other arrangement to carry out the provisions of the agreement; the ownership rights in and disposition of the death benefit from a life insurance policy; the choice of law governing the construction of the agreement; and any other matter, including their personal rights and obligations, not in violation of either the public policy of Florida or a law imposing a criminal penalty. See Florida Statutes section 61.079(4)(a)(1-8). In contemplation of a premarital agreement being signed, there must be a fair and reasonable disclosure of the property or financial obligations of the other party.
Parties to a postnuptial agreement may address the same issues listed above. In addition, waiver of interest in Florida homestead property can be included in a postnuptial agreement. Interests in retirement plans can also be waived. A clause waiving rights upon death of a spouse, specifically when that spouse has a child outside a marriage, can be included as well. In contemplation of a premarital agreement being signed, there must be either 1) full, frank disclosure relative to the value of all marital property and the income of the parties or 2) a general and approximate knowledge by a spouse of the character and extent of the marital property sufficient to obtain a value by reasonable means, as well as a general knowledge of the income of the parties. Casto v. Casto, 508 So.2d 330 (Fla. 1987).
Another tool for asset protection in the event of a divorce is an irrevocable trust for the benefits of the children. In division of property pursuant to a divorce, a spouse cannot be assessed monies that are in an irrevocable trust for the benefit of the spouse's children and which could not be reached by the spouse. However, the trust cannot be set up primarily to deprive a spouse of marital assets and the court will look at whether the money used was marital property built up during the marriage. It is best practice to formulate a trust with the other spouse's knowledge and assent so as not to be seen as a "depletion" of marital assets under the law. See Hedendal v. Hedendal, 695 So.2d 391 (4th DCA 1997); see also Schneider v. Schneider, 864 So.2d 1193 (4th DCA 2004).
Once you sign on the dotted line, its important your attorney has reviewed an agreement extensively because it can be difficult to set aside or modify an agreement once it has been executed. You need to have an experienced and knowledgeable Jacksonville Family Law attorney on your side. Contact the Law Office of David M. Goldman, PLLC, for more information about drafting a prenuptial agreement or a postnuptial agreement and regarding signing a prenuptial or postnuptial agreement.