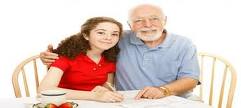 A recent custody case in Western Florida shows just how important relationships with family members can be. For the last five years, two Panama City children have been in their grandparents' custody while their mother was in and out of jail. However, when a judge granted custody back to the children's mother, their grandparents refused to hand them over.
Instead, the grandparents took the children over one thousand miles north, to Sasketchewan, where they camped out in a Walmart parking lot for two weeks before Canadian authorities figured out what they were doing.
The children are now back in their mother's custody. Their situation shows just how important it is to maintain a good relationship with family when children's custody is at issue. If someone is going through family issues that involve custody matters, contact a Florida Family Law Lawyer who can help ensure the best solution for your and your family.